And then it was down to one last level. I didn't hesitate, I selected Solomon and entered. Perhaps a little too fast.
This last level was definitely the peak of disconnect between what the NES was graphically capable of, and what this game could create. The music also caught my attention, it was one of the only songs that appeared more than once - the horrible screeching from when the Hellbeast appeared in the graveyard.
As soon I started, there was already an enemy prepared to attack, a centaur wielding a whip. And it wasn't alone.
When I started fighting, several more centaurs appeared. Coming from both sides at the screen at the same time, it was too much to handle. Solomon's flight saved me from taking too much damage at the start of the level. The centaurs followed after, but seemed to be unable to jump.
After escaping the centaurs I noticed gaps in the ground. While trying to avoid the jumping sword mouthed enemies in mid-flight I got close to the surface of the lava, and a creature emerged and tried to grab me. It didn't succeed, but I was startled. Careful maneuvering would be needed to avoid instant death here.
As new enemies appeared,the level soon became very difficult. A lot of the trouble came from stocky red demons that stood on top of tall, narrow mountains and spewed fire. I got by them by waiting till their back was turned, and hitting them with a flying kick, which made them fall into the lava.It was at this time I noticed that I wasn't gaining any health from killing enemies.
Not all the ground was stable. At one point, the ground was reduced to small chunks that slowly drifted towards the right. Some of them would sink into the lava upon landing on them, and there was no way to tell which ones would sink and which would not. Being so close to the lava added the threat of the lava creatures, and this was very frustrating.
I was also feeling very hot, which made concentrating hard. If you've ever had a heat rash, it felt similar to that. I had periodically stop for water because of it. This was almost certainly due to the game, and not my imagination, but I kept pushing the thought of my head. I didn't want to think about it.
At the end of the stage, I encountered the boss rising from the lava, it's arrival noted with a ungodly howling roar:
When it walked onto the land, I saw how gigantic it was, several times the size of Solomon. I was about to fly up and attack it, when it opened it's mouth and let out a huge blast of fire:
I had to fly to dodge the flames, and then get close enough to the boss to fire a heat beam at it's face, causing it to stumble backward. If it didn't stumble backwards, it would have kept moving left until it forced Solomon into the lava, as there was no more ground within reach.
The beast had to wait between uses of it's fire breath, as it seemed to cost a great deal of energy. I used this time to attack it. But fire wasn't it's only weapon, and I had to wary of the monster swatting at me with it's clawed hands. As it's health decreased, it moved faster,and the battle felt like a tug of war between the two monsters over this bridge of land.
After about 40 hits, it was defeated, tumbling backwards into the lava from whence it came. And then, the final stage had been completed.
At last it was down to 2 bosses, and a final encounter with the Hellbeast.
For some reason I thought Ghidorah would be easier to beat, so I confronted him first.
The classic "Ghidorah Battle" music from the original started up as I was faced against the new King Ghidorah;
King Ghidorah was as powerful and unrelenting as ever. He instantly lashed out with Gravity Beams, which were more damaging than Godzilla's heat beam. It became a struggle of constantly beating Ghidorah at every oppoortunity to keep him from using the attack.
But Ghidorah soon saw through my tactic and started using physical attacks as well. He would strike with each of his necks, knocking me backward and making it impossible to get close enough to punch him. But I had an idea, to wait for him to lunge with one of his heads, and immediately blast it with the heat beam:
It worked, and to my surprise the heat beam had actually obliterated Ghidorah's middle head. It was only a few seconds before I realized what this would lead to, and sure enough...
...King Ghidorah was using the power of the glitch to transform into Mecha King Ghidorah. But what really shocked me was the sudden change of music. I had heard it before, but it wasn't from the original NES game - It was from the game Super Godzilla, during the Mecha King Ghidorah fight.
Mecha King Ghidorah's first attack was it's most deadly: The Machine Hand. Very similar to Gigan's Saw, it immobilizes the monster and rapidly drains the health bar. Fortunately, before Ghidorah could do a lot of damage, the timer ran out.
I would need to defeat Mecha King Ghidorah quickly to prevent him from using the Machine Hand, so I sent Solomon to fight him. The two monsters were evenly matched in strength.
But Solomon was faster, and by slashing and heat beaming without pause, the cyborg monster soon met it's end.
With Ghidorah defeated, I was returned to the board. I now outnumbered the enemy by 4 monsters to 1, and victory seemed to be soon at hand. The Base Icon had changed to a blood red color. I could feel hatred emanating from it.
I started the fight against Destoroyah with Anguirus, and the music was the same as Ghidorah's. When the fight began, Destoroyah was in Microscopic form. After 1 hit it changed into the Juvenile, which had few attacks and was also dealt with easily.
The fight became serious once Destoroyah entered the Aggregate Form, gaining the use of large arms and the micro-oxygen beam.
Anguirus' roll attack, which had been very useful up until now, was rendered useless by Destoroyah constantly attacking me with his large arms when I tried to use it. For this part of the fight I had to rely on brute strength.
Just before the time ran out, Destoroyah had changed into his Flying form, which Anguirus was ill-suited to fight against. Going back in,I fought against the flying form with Mothra (which seemed fitting).
Mothra was weaker than Anguirus, but was much better equipped to dodge and counter Flying Destoroyah's attacks, so the fight was in my favor. However, the Mecha Ghidorah fight music started playing and Destoroyah changed into his Final form sooner than expected, which drastically turned the tables.
Mothra's attacks were doing very little to Destoroyah, and I had to move furiously to avoid damage while waiting for the timer to run out.
Even though it would be near impossible to beat Destoroyah with Mothra, I still had 3 other monsters. Final form Destoroyah was very resistant to taking damage, and the heavily armored foe would not be defeated without a long fight.
In the last part of the fight I wasn't using much strategy, just attacking as brutally and as fast as I could.
On it's last bar of health Destoroyah tried one last counter-attack - a beam of energy from it's chest.
I don't know how powerful it would have been, because just before it could fire I punched Destoroyah in the chest cavity, destroying him!
And then that was it - the last kaiju boss was gone. In the midst of all the excitement, I had briefly forgotten that there was still one last thing to do before the game would be over.
Seeing the icon again hit me like a ton of bricks, and I froze for a few minutes. I had come so far to get to this point. But I was terrified. I really did not want to know what this last encounter was going to be like.
Before I could let myself think about it any longer, I moved Godzilla over and began the stage. "You're here now. This is the end. Just one last thing, and then it's all over."
And when the screen changed, there was...
...Nothing.
Just Godzilla and a black screen. I walked back and forth. Fired a heat beam. Nothing happened, until I heard something - the faint sound of a familiar drum beat.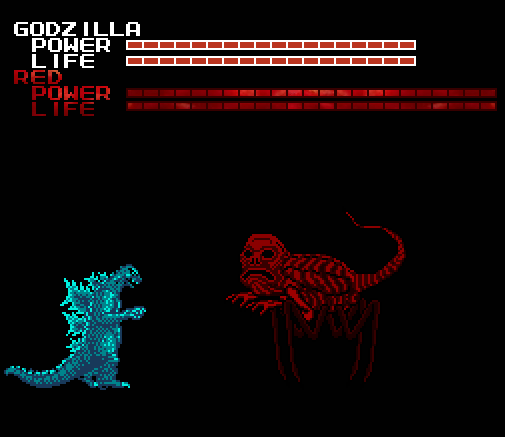 ........